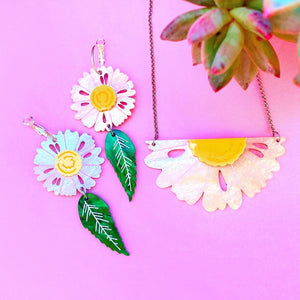 The Jewelry Subscription
How does it work?
My jewelry subscription is bi-monthly, which means that you will receive a beautiful piece of jewelry every two months. The boxes go out in October, December, February and so on. If you sign up, you will be charged at the time of purchase for your first box and then an automatic charge for each box on the first day of the corresponding month. By signing up for the subscription you commit to a minimum of 3 boxes, after the third you can unsubscribe whenever you want.
What's in each box?
Every two months I will design a new piece especially for the subscription. It can be earrings, necklace or brooch. You can follow the creative process on my Instagram to see what you will receive that month. The designs are revealed the month before the cashout.
When you send it?
I try to send the boxes the first week of the month but it may take a little longer depending on the design itself and the amount I have to make. Remember that they are made one by one by hand, which brings its complications. But I promise it will be worth it!
What if I don't want to subscribe but I do want this month's piece?
If you only want one box please DO NOT buy this item. As soon as I have sent all the subscriptions I will put the same product on sale in the store and you can buy it separately. Limited quantities of each piece are available.
Take a look at the photos here to see what's been built for the subscription so far. The designs you see here will not be repeated for future boxes.
Returns of subscription parts are not accepted unless they are broken in transit. Changes to subscription designs cannot be requested.